A modernist culinary approach to plant-based, dairy-free foods
Vegan cookbook review
Skye Michael Conroy's Non-Dairy Evolution Cookbook is one of my favorite vegan cookbooks. It covers the range of cheeses, from soft to melty to hard, and also offers recipes for all kinds of other dairy products and egg dishes. If you're willing to spend some time in the kitchen, this cookbook will help you fill your fridge with delicious cheeses and more.
After the extensive non-dairy glossary with detailed descriptions of essential ingredients and tools, the recipes are divided into eight chapters.
Non-dairy milks – soymilk, almond milk, rice milk, horchata…

Non-dairy creams – quick crème fraîche, sweetened coffee creamers, chai Thai iced tea, whipped coconut cream…

Non-dairy butter – better butter, seasoned butter

Cultured butter, buttermilk, and creams – vital butter, cultured buttermilk, Greek-style yogurt, Indian raita…

Non-dairy cheeses – This is the bulk of the book and is divided into sections:

a) Cultured cashew-based cheeses – cream cheese, chèvre, extra-sharp white cheddar, bleu cheese…

b) Block and wheel cheeses – mozzarella, saganaki, smoked provolone, Suisse…

c) Tofu-based cheeses – cottage cheese, herbed feta, gorgonzola, queso fresco …

d) Miscellaneous cheeses – hard parmesan, grated parmesan, mascarpone

e) Cheese sauces – golden cheddar sauce, fromage blanc sauce, mornay sauce, nacho sauce…

f) Cheese melts – colby melt, jarlsberg melt, cheddar melt, gruyère melt

Seasoning blends – instant cheddar sauce mix, nacho cheese seasoning, buttermilk ranch seasoning

Eggless egg specialities – sunrise scramble, sunnyside-ups, huevos rancheros, deviled eggs…

Sweet treats – cheesecake, crème caramel, gelato, marshmallows…
Mixed in with the above are numerous recipes using these products, like baked manicotti and grilled cheese sandwiches.
While I love the recipes in the book, I find the organization a bit confusing. For example, the author explains how to melt coconut oil in every recipe that uses it, but refers the reader to the extensive "preparation and cooking techniques" for instructions in every block and wheel cheese recipe, which means a lot of flipping back and forth. But that's a small price to pay for the wealth of delicious cheeses, milks, and butters in this book.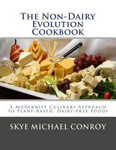 Buy The Non-Dairy Evolution Cookbook: