Vegan Beef, Chicken, Fish Recipes
Some vegetarians avoid mock meat and cheese recipes, while others swear by them. If you're in the latter category, or if you're just interested in trying some vegetarian and vegan versions of typical dishes, take a look at these mock meat and dairy recipes.
Mock Meat Recipes
"Beef" Bourguignon
Although time-consuming, this is an easy and very delicious recipe for mock beef bourguignon made with either seitan or tempeh.

"Beef" Stew
A rich, thick stew made with seitan and lots of good veggies. It's especially tasty served with hot French bread on a cold night.

"Beef" Stroganoff
I just love this pasta dish: a creamy sauce with mushrooms and chunks of mock meat.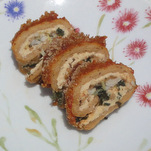 Braciole
Tender seitan rolled around tofu ricotta, herbs, and onions, then baked in tomato sauce. A bit complicated, but worth it!
Cheese Steak
Philadelphia, Pennsylvania is famous for its cheese steak sandwiches. Now you too can get a taste of this wonderful, hearty sandwich.
Corned "Beef"
Frozen tofu absorbs marinade like a sponge and makes a firm and flavorful mock meat.

Lamb Curry
This mock lamb curry is made with seitan and is spicy and delicious.

Meatballs
Mock meatballs are usually made with tofu or tempeh, but this unique recipe uses eggplant and walnuts to great effect.

Meat Loaf
A healthy, delicious veggie "meat"loaf made with lentils.
Mincemeat
Make a big batch of vegetarian mincemeat so that you can make a few pies and have some left over to serve with ice cream, custard, pudding, or crêpes. You can also can or freeze it for later.

Mushroom Meatloaf
Incredibly flavorful meatloaf-style dish made with mushrooms, rice, and lentils.

Pastrami
Sweet and tangy marinated tofu makes a fine fake pastrami. Serve it with quinoa or rice, or thinly slice for sandwiches.
Pâté
If you miss the taste of chopped liver, give this vegetarian pâté a try. You might even be able to fool your non-veggie friends.
Red "Meat" Burgers
Red beans combined with wheat gluten make a hearty and almost disturbingly meat-like burger.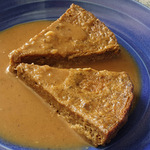 Salisbury Seitan
This vegan alternative to salisbury steak is much tastier than what I remember about that school lunch room classic.

Sausage
A delicious, protein-packed, vegetarian breakfast side dish.

Taco Meat
Walnuts ground up with spices make a delicious, raw filling for tacos.

Veggie Burgers
These vegetarian/vegan burgers, made with lentils, are healthy, low-fat, and delicious.

Wheat Meat and Potatoes
The ultimate in hearty, down-home cooking: (wheat) meat and potatoes.

Almond Chicken
Crispy strips of seitan smothered in almonds and brown sauce make a great vegan alternative to the classic Chinese-American recipe, soo guy.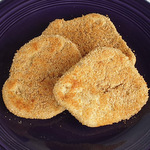 Breaded Chick-en Patties
This combination of chickpeas and gluten makes a terrific vegan breaded chicken.
Cashew Chicken
I was never a huge fan of Chinese food, but one dish I did like was cashew chicken. With some tinkering, I came up with a quick and easy seitan version.
Chicken Chow Mein
Mock chicken chow mein (made with seitan) doesn't take long to prepare, but it does require quite a bit of cooking.

Chicken Milanese
Crisp, flavorful tofu served with salad is an excellent vegetarian replacement for chicken milanese.

Chick-en Nuggets and Dippers
Make a delicious vegan snack with chickpeas and gluten.

Chicken Salad
This simple tempeh salad really does resemble chicken salad. It's great in sandwiches or atop a green salad.

Chicken Seitan
A moist, tender seitan that makes a perfect chicken substitute in just about any recipe.
Chicken Teriyaki
A mix of seasoned, roasted vegetables and seitan. Serve it with a grain or noodles for a delicious vegan meal.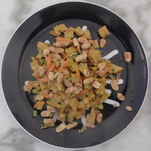 Chinese Chicken Salad
A tangy dressing tossed with seitan and vegetables makes a delicious vegan alternative to Chinese chicken salad.

Southern-Fried Chicken
Crisp and delicious, you'll want to make this again and again.


Crab Cakes
Delectable "crab" cakes made with tempeh and served with sherry sauce.
New England Clam Chowder
This is a rich and delicious vegetarian alternative to New England clam chowder.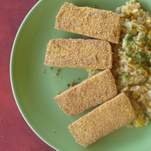 Oven-Fried Catfish
Spicy and crisp tofu, perfect for dipping into hot sauce or barbecue sauce.
Tuna Salad
A vegetarian "tuna" salad made with chickpeas, almonds, and seeds. Tuna fish was the very last meat that I gave up, and while this doesn't taste exactly like tuna salad, it's close enough that I don't miss the real thing any more.


Bacon (Eggplant)
Thin slices of smoky eggplant make a delicious alternative to bacon.
Bacon (Tofu)
Crispy, chewy, greasy, salty … yes, this is vegan bacon made from tofu – and it's amazing!
Barbecued Seitan "Ribs"
How meaty can ribs made from vegan-friendly seitan really be? Try this recipe – you might be surprised!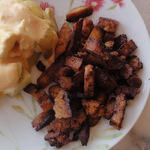 Chicharrones
Chicharrones are bits of deep-fried pork belly much beloved in Latin America. This adaptation offers veg*ns the same greasy, chewy goodness.
Pizza Sausage (Tofu)
Thin slices of smoky eggplant make a delicious alternative to bacon.

Seitan Ham
Sweet vegan ham made from seitan.
Sweet Italian Sausage
Sweet and flavorful Italian sausage made from tempeh.
More Mock Recipes