They may not be the prettiest things in the world, but banana pancakes are sweet and delicious – and vegan to boot.
Yield: 6-8 pancakes
Time: 30 minutes
Tools
small bowl
wooden spoon
large bowl
potato masher or fork
large, heavy-bottomed, non-stick frying pan
ladle
spatula
plate
Ingredients
1 c flour
2¼ t baking powder
dash salt
dash cinnamon
dash allspice
2 very ripe, medium bananas
2 T vegetable oil plus more for pan
½ c milk
½ c water
2 t cider vinegar
1 T maple syrup
optional additions*
Directions
Combine dry ingredients in the small bowl and set aside.
Mash the banana in the large bowl, then mix in remaining oil, milk, water, vinegar, and syrup.
Stir in the dry ingredients until just mixed, then fold in optional additions.*
Heat the pan over medium heat until very hot, then lightly oil.
Pour about ⅓ cup of batter to make a pancake and immediately spread it, gently, with the bottom of the ladle.
Cook about 3 minutes, until the top looks dry, then flip and cook another minute.
Transfer to plate and cover with foil or place in low oven to keep warm as you cook the rest of the pancakes.
Notes
* Additions – you can add a cup of
chocolate chips
fresh berries
shredded coconut
sliced bananas
toasted walnuts or pecans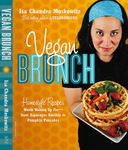 Adapted from the recipe for "Banana Flapjacks" in Vegan Brunch (read my review).
Buy it:
Help
Abbreviations | Conversions | Cooking tips