Rub this spice mix on seitan or tofu, add to a sauce, or sprinkle over veggies.
Yield: 1 cup
Time: 2 minutes
Tools
Ingredients
¼ c dry mustard
¼ c smoked paprika
¼ c onion powder
2 T garlic powder
1 T cumin
1 T pepper
Directions
Place everything in the jar, screw the lid on tightly, and shake well to combine.
Notes
This will keep for up to 6 months.
Use Barbecue Rub to make Seitan "Ribs" and Quick Barbecue Sauce. It's also delicious rubbed on tofu and roasted with potatoes.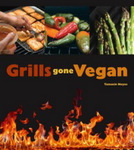 Recipe from Grills Gone Vegan, by Tamasin Noyes – read my review.
Buy it:
Help
Abbreviations | Conversions | Cooking tips