This is a terrific mock parmesan "cheese" made from nutritional yeast and toasted sesame seeds.
Yield: ½ cup
Time: 5 minutes
Tools
blender or food processor
small container with lid
Ingredients
¼ c sesame seeds, toasted
¼ t salt
Directions
Blend ingredients until completely ground.
Sprinkle on pasta, rice, salad … anywhere you'd use traditional parmesan cheese.
Notes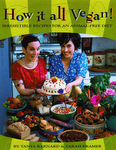 Adapted from the recipe for "Faux parmesan cheese" in How it all Vegan! Irresistible recipes for an animal-free diet, by Tanya Barnard and Sarah Kramer – read my review.
Buy it:
Help
Abbreviations | Conversions | Cooking tips