Falafel are crunchy chickpea nuggets from Lebanon that can be baked or fried.
Yield: 15-20 falafel
Time: 1½ hours (plus chickpea soaking*)
Tools
food processor
container with lid
cookie sheet
large frying pan
Ingredients
1 c dry chickpeas, soaked for at least 8 hours*
1 c parsley, cilantro, or basil, chopped
½ c onion, chopped
3 cloves garlic, minced
1½ t salt
1 t coriander
1 t cumin
¼ t pepper
dash cayenne or paprika
½ c chickpea flour
½ t baking powder
several T olive oil
Directions
Drain the soaked, uncooked chickpeas, then place in food processor and pulse just until they form a loose paste.
Add everything up to the cayenne and pulse a few times until well mixed. Transfer to bowl and stir in chickpea flour and baking powder.
Squeeze a bit of the mixture with your fingers – if it sticks together, go on to the next step. But if it's too wet, add more chickpea flour, a few T at a time, until it sticks.
Refrigerate for an hour, then decide whether you want to bake or fry the falafel or fry.
Baked falafel (my preferred method)
Grease the cookie sheet and preheat the oven to 375.
Oil your hands, then take about 2 T of batter and form it into a 1- to 2-inch ball. Flatten a bit and place on tray. Repeat with remaining batter, then drizzle generously with oil.
Bake for 15 minutes, flip, and bake another 10 minutes, until golden brown on both sides.
Serve hot.
Fried falafel
Form the batter into patties, place on a plate, cover with plastic wrap, and refrigerate another 10-15 minutes.
Heat oil in in the pan until it shimmers.
Fry the falafel in a single, well-spaced layer over medium-high heat, about 3 minutes, until golden. Flip and fry the other side for another 3 minutes.
Transfer to cookie sheet and bake at 350 for another 8 minutes.
Notes
* You'll end up with 2 cups soaked, raw chickpeas. Note that you can't use canned chickpeas for this recipe – they're too wet and the falafel will fall apart. If you want to use canned, try this falafel recipe instead.
I like falafel dipped into tahini sauce, hummus, or baba ganouj, but they're also terrific in sandwiches.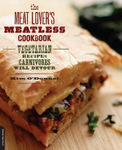 Adapted from the recipe for "Jig-Inducing Falafel Burgers" in The Meat Lover's Meatless Cookbook (read my review).
Buy it:
Help
Abbreviations | Conversions | Cooking tips