Slightly crunchy pan-fried seitan is just asking to be served with a flavorful sauce or gravy.
Yield: 4 servings
Time: 10 minutes
Tools
medium frying pan
plate
paper towels
shallow bowl
tongs
Ingredients
Directions
Cover the bottom of the frying pan with a thin film of oil and heat over medium heat.
Line the plate with paper towels.
Put the flour in the bowl and press each piece of seitan into it to coat both sides.
Fry for 2-3 minutes, until golden brown, then flip and fry the other side.
Set on paper towels to drain.
Notes
Pan-fried seitan is wonderful with any of these sauces: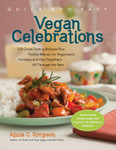 Recipe from Alicia C. Simpson's Quick and Easy Vegan Celebrations (read my review).
Buy it:
Help
Abbreviations | Conversions | Cooking tips