Thinly sliced potatoes layered with tomatoes and a bit of (vegan) cheese offer an Italian twist to scalloped potatoes.
Yield: 4-6 servings
Time: 90 minutes
Tools
9×13 baking dish
mandoline or very sharp knife
large bowl
small bowl
Ingredients
¼ c olive oil, divided
1 T fresh rosemary, minced
1 t salt
pepper
3 large potatoes (about 2 pounds), scrubbed
6 oz melty mozzarella or other vegan mozz
6 medium plum or roma tomatoes, seeded and chopped.
Directions
Oil the the baking dish and set aside.
Combine the rest of the oil with rosemary, salt, and pepper in the small bowl and set aside.
Slice the potatoes as thinly as possible (1/8 inch at most) and transfer to large bowl. Carefully toss with the rosemary oil to coat evenly.
Preheat oven to 400.
Arrange a third of the potatoes in the baking dish, overlapping slightly. Cover with half the mozz and then half the tomatoes. Add another third of the potatoes, then the rest of the mozz and tomatoes. Top with the rest of the potatoes.
Bake about one hour, until golden brown on top. Let cool for a few minutes before slicing and serving.
Notes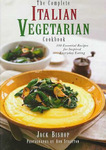 Adapted from the recipe for "Baked Potato Casserole with Tomatoes and Mozzarella" in Jack Bishop's The Complete Italian Vegetarian Cookbook (read my review).
Buy it:
Help
Abbreviations | Conversions | Cooking tips