Crisp, flavorful tofu served with salad is an excellent vegan replacement for chicken milanese.
Yield: 4 servings
Time: 45 minutes
Tools
medium bowl
whisk
3 shallow bowls
2 large plates
paper towels
large frying pan
spatula
large bowl
4 dinner plates
Ingredients
1 pound extra firm tofu, pressed
½ c olive oil, divided
¼ c balsamic vinegar
¼ c shallots, minced
1 T lemon juice
black pepper
1¼ t salt, divided
1/3 c flour
2 T water
1 c fine bread crumbs
¼ c parsley, minced
4 c baby arugula and/or lettuce
2 c cherry or grape tomatoes, halved
4 lemon wedges
Directions
Whisk together ¼ c oil, vinegar, shallots, lemon juice, 10 grinds of pepper, and ½ t salt. Set aside.
Arrange the 3 shallow bowls and one plate in a straight line on the counter. Combine flour and ¼ t salt in one bowl, whisk together flax eggs and water in the second, and combine breadcrumbs, nutritional yeast, parsley, remaining ½ t salt, and 15 grinds of pepper in the third.
Slice the tofu into 8 even slices. Dredge one slice in the flour, then dip in the flax mixture, then coat with crumbs. Set on the plate and repeat with the rest of the tofu. Place both plates next to the stove and line the empty one with paper towels.
Heat ¼ c oil over medium hight heat, add 4 pieces of tofu, and sauté for about 4 minutes, until golden and crisp. Gently flip and sauté the other side, then transfer to the paper towel-lined plate. Repeat with the rest of the tofu.
Meanwhile, toss the arugula and tomatoes with about half of the dressing. Transfer a quarter of the salad to each dinner plate, then top with two pieces of tofu and a lemon wedge. Drizzle each plate with about a T of dressing and serve hot.
Notes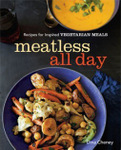 Adapted from the recipe for "Tofu milanese with arugula, cherry tomatoes, and balsamic vinaigrette" in Meatless All Day – read my review.
Buy it:
Help
Abbreviations | Conversions | Cooking tips