If you love the layers of lasagna but are on a wheat-free diet, this zucchini lasagna recipe is just what you're looking for.
Yield: 8 servings
Time: 1½ hours (plus overnight refrigeration)
Tools
mandolin or sharp knife
9×13 inch baking dish
wooden spoon
Ingredients
Directions
Preheat oven to 350.
Thinly slice zucchini (⅛ inch).
Spread 1 c sauce in baking dish. Add half of the zucchini in a layer of overlapping slices. Add half the ricotta, a third of the mozz, and half the vegetables. Top with 1 c sauce.
Repeat with the rest of the zucchini and ricotta, another third of the mozz, and the rest of the veggies.
Top with the last of the mozz.
Bake for one hour until bubbly.
Let cool, then refrigerate overnight.
Cut the lasagna into pieces, reheat, and serve.
Notes
You could of course eat this dish hot out of the oven, but for the nicest presentation, it's better to cut it when it's cold.
See my other lasagna recipes.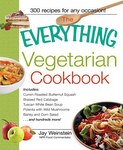 Adapted from Jay Weinstein's The Everything Vegetarian Cookbook.
Buy it:
Help
Abbreviations | Conversions | Cooking tips