Vegan cookbook review
The Regency House Spa is a vegetarian, holistic resort north of Miami Beach, Florida. Vegetarian Magic, written by by John B. Nowakowski, should really be titled "Vegan Magic," as there are no animal products in any of the recipes.
Vegetarian Magic's introduction includes tips on food combining, vegan nutrition, shopping smart, and cooking, and at the end of the book is information about juice fasting as well as four weeks' worth of sample lunch and dinner menus. In between are the recipes with nutritional information (many of them are low- or no- fat) and divided by type:
Appetizers
Salads
Salad dressings
Sauces
Soups
Breads + sandwiches
Entrees (subdivided into pasta, tofu, rice, and ethnic/misc)
Potato dishes
Vegetables
Desserts
Whenever I receive a new cookbook, I page through it, writing down all of the recipes that I want to try. For this book, I was surprised to see that I'd written down only one salad, White Bean and Pesto, but four salad dressings: Citrus-Poppy Seed, Balsamic Vinaigrette (blended with vegetables), Creamy Garlic, and Mustard-Tahini. I'm also intrigued by the Champs-Elysées potatoes, (vegan) Scalloped Potatoes, Seitan Marsala, Baked Falafel, Wild Mushroom Dressing, and Red Pepper Vichyssoise, among others. As you can see, there's quite a variety of interesting recipes, and that's not even including the Key Lime Cheesecake and Luscious Lemon Pie that I'll be making as soon as my farmer's market has some good citrus fruit.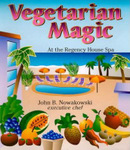 This is a great book for new vegans, as most of the recipes are fairly simple without being boring. And of course if you've been to the Regency House Spa and want to recreate some of those wonderful meals, Vegetarian Magic has what you need.
Buy Vegetarian Magic At the Regency House Spa:
Amazon.com | Amazon.co.uk