Chewy tofu marinated in a tangy orange sauce and roasted.
Yield: 3-4 servings
Time: an hour
Tools
9×12 baking dish
whisk
small bowl
Ingredients
1 pound extra-firm tofu, cut into eight ½-inch slices and pressed
3 T olive oil, divided
1 T soy sauce
zest from one orange
½ c orange juice
2 T lime juice
4 cloves garlic, minced
1 t salt
1 t dried oregano
½ t cumin
pepper
Directions
Preheat oven to 400.
Combine 2 T oil with soy sauce in the baking dish and mix well. Add the tofu in a single layer and press into the liquid, then flip and press again.
Bake for 20 minutes.
Meanwhile, whisk together the rest of the oil with the remaining ingredients.
Remove the tofu from the oven, carefully flip each piece, and pour the marinade over the top.
Bake another 30 minutes until tofu is firm and sauce is slightly thickened. You can bake longer for a chewier tofu.
Transfer to plates and drizzle with the hot marinade.
Notes
Serve with rice and beans for an easy, filling meal.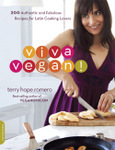 Adapted from the recipe for "Zesty orange mojo baked tofu" in Viva Vegan – read my review.
Buy it:
Help
Abbreviations | Conversions | Cooking tips