200 authentic and fabulous recipes for Latin food lovers
Vegan cookbook review
Having traveled extensively in Central America, I've spent a lot of time looking longingly at meat-filled pupusas, tamales, tacos, and empanadas, wishing there were vegetarian alternatives. Even refried beans are normally made with lard, so I've never eaten much traditional Latin American food. All that changed with Viva Vegan! by Terry Hope Romero.
After extensive pointers on basic vegan and Latin ingredients as well as essential kitchen tools, the recipes are divided into 14 chapters:
A few essential Latino vegan recipes – Onion-pepper sofrito, Steamed seitan (red or white), Seitan chorizo…

Salsas and condiementos – Tomatillo sauce, Pickled onions, Red chile sauce…

Bocadillos, snacks, and appetizers – Mushroom ceviche, Papas rellenas, Cubano "pulled pork" sandwich…

Ensaladas – Black bean corn salsa, Chayote and potato salad, Mango-jicama salad…

Beans and rice, los dos amigos – Venezuelan black beans, Colombian red beans, Cilantro-lime rice…

Vegan asado – Tofu chicharrones, Chimichurri baked tofu, Seitan anticuchos…

Vegetables, plantains, and grains – Salsa a la huancaíno, Fried plantains, Amaranth polenta…

One-pot stews, casseroles, and cazuelas – Potato-chickpea enchiladas, Posole (red or green), Pastel de choclo…

Super fantástico Latin soup – Cuban black bean, Sweet potato-chipotle bisque, Potato-kale…

For the love of corn – Pupusas, Homemade soft corn tortillas, Taquitos…

You, too, can tamale – Black bean and sweet potato, Red chile and seitan, Chocolate mole…

Empanadas – Creamy corn, Seitan and mushroom, Bean-rice-plantain…

Drinks – Horchata, Hot chocolate, Mojitos…

Desserts and sweets – Churros, Dulce de "leche," Papaya-lime sorbet…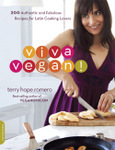 Once you've made some chorizo sausages out of seitan, you can use them for tacos, papusas, and all kinds of soups and stews. Cook some corn or flour tortillas and top them with veggies, roll them into burritos, or serve alongside rice, beans, and fried plantains. Viva Vegan! offers recipes to make everything from scratch, from appetizers to drinks to desserts – it's ¡muy excelente! I just wish there were more color photos, because the ones that are included are stunning.
Buy Viva Vegan!: Amazon.com | Amazon.co.uk
Terry Hope Romero is the author of Vegan Eats World and co-author of four other vegan cookbooks.