300 international recipes for savoring the planet
Vegan cookbook review
As one of the recipe testers for this book, I can tell you that Terry Hope Romero worked tirelessly to make each recipe easy to follow and every dish delicious. The amount of research alone must have been staggering, as at least 2 dozen cuisines are included. (I can't be more precise than that as there is no "recipes by country" index, but the "menus" section gives a good sense of the range.)
After the interesting introductory material, the How to Use This Book section explains the icons used for the recipes: quick (under 45 minutes), mostly hands-off, cheap, easy, low fat, gluten-free, and soy-free. There's also an index of recipes in each category.
Part 1, Kitchen Cartography, will help you with "mapping your way to a brave new vegan cuisine." This extensive section includes tips on cooking preparation, simple kitchen techniques, cooking terms, kitchen equipment, and specialty/regional ingredients (including both explanations and cuisine-specific shopping lists).
Part 2 packs 300 recipes into a dozen delicious chapters:
Spice Blends – Garam masala, Sichuan 5-spice powder, Berbere spice blend…

The Three Protein Amigos – Seitan coriander cutlets, Savory baked tofu, Chorizo tempeh crumbles…

Pickles, Chutneys & Saucier Sauces – Kimchi, Tamarind date chutney, Toasted hazelnut crunch dip…

Salads, Spreads & Sandwiches – Avocado mango cashew salad, Skordalia, Muhammara, Seitan gyro roll ups…

Soups – Masala potato soup, Asparagus bisque, Sauerkraut mushroom soup…

Curries, Hearty Stews & Beans – Plantain and pumpkin curry, Beer-bathed seitan stew, Pumpkin black bean posole…

Dumplings, Breads & Pancakes – Potstickers, Roti, Mucver (Turkish zucchini pancakes)…

Asian Noodles to Mediterranean Pasta – Curry laksa, Spicy drunken noodles, Roasted gnocchi…

Hearty Entrees – Eggplant parmigiana, Tandoori tofu, Char siu seitan…

Robust Vegetable Entrees & Sides – Breaded eggplant and zucchini, Okra masala, Crispy plantains…

Rice & Whole Grains: One-Pot Meals & Supporting Roles – Steamed sticky rice, Spiced couscous, Freekeh and millet pilaf…

Sweet Beginnings – Pumpkin churros, Carrot semolina halva, Tart tatin (sic, the correct French spelling is tarte)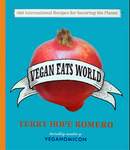 For an amazing variety of recipes, both vegan and veganized, from the four corners of the globe, check out Vegan Eats World – you can explore the world while eating a different cuisine every day for two weeks.
Buy it:
Terry Hope Romero is the author of Viva Vegan! and co-author of four other vegan cookbooks.