Chicharrones are bits of deep-fried pork belly much beloved in Latin America. This adaptation offers veg*ns the same greasy, chewy goodness.
Yield: about 2 cups
Time: 45 minutes
Tools
medium bowl or container with lid
plate
paper towels
heavy frying pan
metal, heat-safe tongs
metal, heat-safe slotted spoon
Ingredients
1 pound firm or extra firm tofu, frozen and thawed, then pressed, and then torn into small, irregular pieces
3 T soy sauce
1 T liquid smoke
1 clove garlic, minced
1 T red wine vinegar
about ⅓ c peanut or sesame oil
Directions
Combine soy sauce, liquid smoke, garlic, and vinegar, then stir in the tofu pieces. Let marinate for about 15 minutes, stirring or shaking occasionally.*
Line plate with paper towels and set next to the stove.
Heat oil and test its readiness by dropping in a tiny piece of tofu. When it sizzles and quickly browns, add about ½ cup of tofu pieces and fry until brown, about 4-5 minutes. Turn each piece and brown the other side. Transfer to paper towels and repeat with remaining tofu.
Serve hot as a snack, mix into rice, roll up in a tortilla along with some beans… the sky's the limit!
Notes
* My tofu was so spongy that it immediately soaked up every bit of the marinade, so I didn't need to stir it.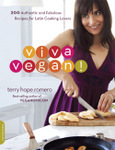 Recipe from Viva Vegan! (read my review).
Buy it:
Help
Abbreviations | Conversions | Cooking tips