Recipes for inspired vegetarian meals
Vegetarian cookbook review
Dina Cheney's beautifully photographed book aims to teach you how to make "vegetarian, delicious, and substantial" meals, the secret of which are power incredients, which provide a meaty flavor and/or texture. After half a dozen pages of tips – how to retain the color and maximize the taste and texture of vegetables, the art of cooking eggs, and tips for enhancing "meatiness" – the remainder of the book is made up of 85 recipes divided into three parts.
Breakfast & Brunch features a variety of egg dishes (strata with mushrooms, olives, and sun-dried tomatoes; open-faced fried egg sandwiches; frittatas…) and pancakes (sweet and savory corn, ricotta, pumpkin pear), as well as meal-barrier-crossing recipes like peanut butter & jelly French toast and strawberry-vanilla risotto.
Lunch & Light Entrees offers creative spins on classic lunch dishes, including an assortment of tea sandwiches and variations on grilled cheese, unusual updates to classic salads (tabbouleh with dates and pomegranate, Greek salad with spicy chickpeas and watermelon), quinoa-polenta cakes with white bean purée, and soups like creamy Mexican carrot soup and miso soup with root vegetables.
Dinner includes vegetarian versions of classic fare like tofu milanaise, Thanksgiving "turkey" beanloaf, polenta or pumpkin lasagna, beet Wellington. There are also burger recipes, stuffed peppers and acorn squash, pizza, calzones, spanakopita with red peppers, and spaghetti with beanballs.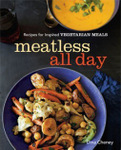 Though I found some interesting combinations and variations Meatless All Day, I was disappointed that the recipes rely so heavily on dairy and eggs. If you have any vegan tendencies at all, this isn't the book for you; try one of these instead.
Buy Meatless All Day: