Vegetarian cookbook review
Established in 1983 by Jo Kaucher and Mickey Hornick, The Chicago Diner is a vegetarian jewel in a traditionally meat-loving city. I'm sorry to say that even though I grew up in northern Illinois and visited Chicago many times, I'd never heard of, much less eaten at, this famous restaurant. So I was delighted to have a chance to review their eponymous cookbook, written by chef Jo A. Kaucher.
Most of the recipes in The Chicago Diner Cookbook are vegan, though a few dairy products show up here and there. There's a real mix of recipes. At first I noticed a lot of comfort food or classic down-home cooking, like Cream of Potato-Leek Soup, Shepherd's Pie, Sloppy Joes (made with tempeh), and (tofu) Cheesecake. But there are also lots of international recipes, including Ratatouille Provençal, Pasta Fagioli, Japanese Noodle Salad, Vegetable Paella, and Seitan Goulash. All in all, a great variety of different dishes, from appetizers to desserts.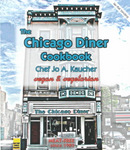 If you'd like to eat at The Chicago Diner without going to the windy city, The Chicago Diner Cookbook will let you sample the menu right in your own home.
Buy The Chicago Diner Cookbook:
Amazon.com | Amazon.co.uk
Website: The Chicago Diner