I served this warm white bean salad at a dinner party and more than half the guests wanted the recipe. It is absolutely delicious and very easy to make.
Yield: 4-6 servings
Time: 20 minutes (once beans are ready)
Tools
large bowl
wooden spoon
large sauce pan with lid
Ingredients
1 c dried white beans, soaked and cooked until just tender, or 2 c canned white beans, warmed
½ c oil-packed sun-dried tomatoes, drained and chopped
4 oz smoked tofu, diced
¼ c red wine vinegar
½ c olive oil
1 c red onion, diced
½ t coarse salt
2 medium carrots, thinly sliced
2 medium celery stalks, thinly sliced
2 cloves garlic, minced
2 T rosemary, minced
dash of paprika or crushed red pepper flakes
¼ c water
2-3 c arugula, roughly torn or chopped
Directions
Combine beans, tomatoes, tofu, and vinegar in the bowl and set aside.
Heat oil over high heat, add onion and salt, and sauté for 2 minutes. Stir in carrots, celery, garlic, rosemary, and paprika and sauté 1 minute. Add water, cover, and simmer about 2 minutes, until veggies are just tender.
Add to beans, mix well, taste, and adjust seasonings.
Toss with arugula and serve warm.
Notes
Also see my recipe for a simpler, summery white bean salad.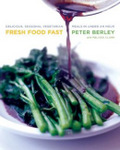 Adapted from the recipe for "Warm White Bean Salad with Sun-Dried Tomatoes and Smoked Mozzarella." in Peter Berley and Melissa Clark's Fresh Food Fast: Delicious, seasonal vegetarian meals in under an hour.
Buy it:
Help
Abbreviations | Conversions | Cooking tips