Raw gourmet meals in five minutes
Living food book review
Raw food recipes sometimes require soaking and/or dehydration and thus take many hours to prepare, which can be downright discouraging for would-be living foodists. Enter Alive in Five, by Angela Elliot, a small book filled with scores of recipes that take minutes to prepare but still look and taste great.
The introductory chapters offer a quick look at why raw food is good for you, how to fill your kitchen with ingredients and tools, and how to store fruits and veggies. The one-week menu plan offers a shopping list and meal ideas for seven days, and then the recipes are divided into fairly standard chapters:
Beverages (nut milks, smoothies, shakes)

Breakfast (cereal, yogurt, "eggs," porridge)

Appetizers (pizza, pâté rolls, avocado boats)

Salads (fruit, Greek, wild green, Caesar, garden)

Soups (herbed, corn, mushroom, zucchini)

Sauces (raw marinara, sour cream, satay, pesto, olive medley)

Entrées (pasta, tacos, lasagne, tostadas, chili)

Desserts (pudding, ice cream, popsicles)
While some of the recipes call for soaked nuts or seeds, which obviously require more time, you do have the option of using unsoaked ones, just know that the end result will be less creamy. The author also offers tips on quick soaking and pre-soaking so that you can still make meals quickly.
My only quibble is the use of the word "gourmet" in the subtitle. While many of these recipes are both beautiful and delicious, I can't agree that they are gourmet, which to me indicates something far beyond a purée or a pile of chopped veggies, no matter how beautifully they may be arranged. "Delicious raw meals," absolutely, but I can't agree that they're gourmet.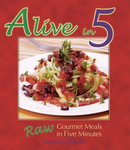 If you're interested in raw foods but not planning your meals a day ahead, check out Alive in Five for quick, easy, and delicious recipes.
Buy it: