Vegan cookbook review
Did you know that brightly-colored food does more than just look pretty on your plate? The colors of different foods indicate the various nutrients they contain, so eating a rainbow's worth of vegetables can help you make sure that you're getting all the different vitamins and minerals your body needs.
With Color Me Vegan, Colleen Patrick-Goudreau promises that you can "maximize your nutrient intake and optimize your health by eating antioxidant-rich, fiber-packed, color-intense meals that taste great." The recipes are divided into color chapters:
Color me red (beet burgers, stuffed cherry tomatoes…)

Color me orange (carrot fries, sweet potato tacos…)

Color me yellow (caramelized bananas, mango saffron mousse…)

Color me green (green tea and pistachio cupcakes, kale chips…)

Color me blue/purple (blueberry ketchup, purple potato soup…)

Color me white/tan (salt-and-pepper tofu, jicama slaw…)

Color me black/brown (peanut butter pancakes, olive salad…)

Color me the rainbow! (carrot avocado salad, muffaletta sandwich…)
Each chapter begins with nutritional information for that color as well as some common and not so common foods to enjoy, followed by recipes for starters and salads, soups and stews, sides, main dishes, and desserts. There are notations for oil-free, soy-free, and wheat-free recipes, as well as numerous sidebars with factoids, cooking tips, and food lore.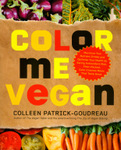 With dozens of photos as well as color-coded pages, the book itself is a riot of color, making Color Me Vegan a feast for your eyes as well as your tastebuds.
Buy Color Me Vegan:
Also by Colleen Patrick-Goudreau: The Vegan Table