Amazing cookies, cakes, muffins, pies, brownies and breads
Vegan cookbook review
For those in the know, vegan baking really isn't so different from traditional baking – it's just a matter of knowing what to substitute for eggs, milk, butter, and other essential baking ingredients. Once you've got those figured out, the rest is a piece of vegan cake!
In The 100 Best Vegan Baking Recipes, Kris Holechek offers a variety of vegan baked goods for every meal and any occasion. The first chapter, Vegan Baking: An Introduction, explains why certain ingredients, like eggs and shortening, are used in traditional baking, and provides a list of vegan substitutes. There are also "in the pantry" and "in the fridge/freezer" lists, as well as some recommended kitchen tools.
Recipes are rated by difficulty (1 to 5) and are divided into 10 chapters:
Cookies: chocolate peanut butter shells, lemon drop cookies, mocha stripes…

Bars: ultimate brownies, lime coconut bars, nuts for carob bars…

Muffins: French toast muffins, peary beary muffins, eggnog muffins…

Quick Breads: gingerbread, chocolate stout bread, Irish soda bread…

Cakes: marbled bundt cake, blackest forest cake, banana split cupcakes…

Pies & Tarts: Polski apple crisp, lemon almond torte, raspberry peach lattice pie…

Pastries: puff pastry, popovers, danish…

Yeasted Treats: sweet wheat rolls, braided holiday bread, ezekiel bread…

Kids in the Kitchen: lil' chocolate cake, ice cream sammies, cut-out sugar cookies…

Frosting, Icings & Toppings: cream cheese frosting, coconut glaze, chocolate ganache…
If you love baking and have been missing out on homemade treats because you thought they couldn't be vegan, think again. This cookbook will lead you into the brave new world of vegan baking.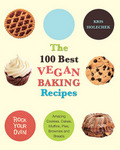 Buy The 100 Best Vegan Baking Recipes:
Author's website: nom! nom! nom!