Recipes for Singles, by Beverly Lynn Bennet
Vegan cookbook review
The title of Vegan Bites: Recipes for Singles says it all – this is a cookbook for vegans who are cooking for one or two. Of course, that doesn't mean that larger households can't make use of it – just double or triple the recipes as needed.
Vegan Bites includes a surprisingly diverse array of recipes – breakfast items, like Maple-Pecan French Toast, aand Sweet Italian Sausage, make a great start to your meatless day, and later on you can enjoy a variety of soups, salads, sandwiches, pizza, pasta, and side dishes, like Simple Scalloped Potatoes. The Indian cuisine-inspired Golden Grains with Peas and Cashews is delicious, as is Orange-Teriyaki Tofu, and Classic Peanut Butter Cookies are the perfect ending to any meal.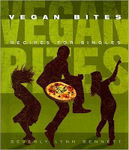 New vegans will appreciate Getting Started – about 20 pages of info about vegan nutrition, shopping, substitutions, cooking techniques, and essential kitchen tools.
Buy Vegan Bites:
Amazon.com | Amazon.co.uk
Author's website: The Vegan Chef