200 recipes for simple and delicious animal-free cuisine
Vegan cookbook review
The recipes in this book by Lacey Sher and Gail Doherty are pretty easy for the most part, so this is a great option for those new to cooking, especially vegan cooking. And the introductory matter is excellent: kitchen equipment, pantry basics, ideas for vegan recipe conversions, and spice blends.
I'm not a big fan of exclamatory cookbook titles, and in the case of You Won't Believe It's Vegan!, it's even a bit misleading. I expected this cookbook to be packed with mock cheeses and meats, but it isn't. About a third of the book is taken up with chapters on drinks, basics like corn bread and peanut sauce, vegetable soups, and salads, which are certainly great recipes (especially the Sweet Potato-Tomato-Chipotle Soup), but they're not the types of foods that vegans normally miss out on.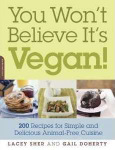 The remaining chapters (sandwiches, appetizers, entrées, live foods, desserts, and kids' food [which I especially like – tofu nuggets, ants on a log, or ladybug snack, anyone?]) offer a variety of recipes, including things like seitan gyros, wheatball subs, tempeh sausage, tofu hot wings, seitan satay, and tiramisu. I just don't think the book should be named for these relatively few recipes that have the potential to make you say, "wow, this is vegan?"
Buy You Won't Believe It's Vegan:
Amazon.com | Amazon.co.uk