A moist, tender seitan that makes a perfect chicken substitute in just about any recipe.
Yield: 1 pound
Time: 1 hour (mostly simmering)
Tools
large stock pot
wooden spoon
small bowl
rubber spatula
knife
Ingredients
3 c water, divided
2 T tamari or liquid aminos
1 t onion powder or 2 T minced onion
1½ t dried sage
½ t dried thyme
½ t dried oregano
½ c vital wheat gluten
¼ c soy flour or chickpea flour*
1 T all-purpose flour
Directions
Combine 2½ c water, nutritional yeast, tamari, onion, and herbs in the stock pot, cover, and bring to a boil.
Meanwhile, combine the gluten and soy flour, then add remaining ½ c water and stir into a ball.
Sprinkle all-purpose flour on the counter and knead the ball of seitan for a minute.
Gently flatten and stretch into a ½-inch thick sheet. (Don't worry if it's uneven or it tears.)
Cut into four pieces.
When the broth is boiling, carefully add the seitan. Reduce heat to simmer, cover, and cook for 40-50 minutes, until the broth is mostly evaporated/absorbed. Flip the pieces over every 10 minutes or so.
Use immediately in your favorite "chicken" recipe, or let cool and store in any remaining broth in the refrigerator. It will keep for 4-5 days.
Notes
* Soy or chickpea flour is essential for getting the texture right. If you have a Vitamix or other high-speed blender, you can make your own – just follow my instructions for chickpea flour, using uncooked chickpeas or soybeans. But whatever you do, don't substitute wheat flour – your seitan will be a disaster.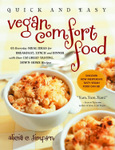 Adapted from Alicia C. Simpson's recipe for "Chik'n seitan" in Quick and Easy Vegan Comfort Food (read my review).
Buy it:
Help
Abbreviations | Conversions | Cooking tips