150 Asian-inspired recipes – from soba noodles to summer rolls
Vegan cookbook review
Asian cuisine is sometimes very elaborate, which can be a turn-off for anyone who doesn't want to spend all day in the kitchen. Fortunately, it doesn't have to be difficult or time-consuming to cook good, vegan, Asian food, especially if you have a copy of The 30-Minute Vegan's Taste of the East, by Mark Reinfeld and Jennifer Murray, which features classic and creative recipes from all over Asia.
The first four chapters cover specific countries, with a brief introduction to that cuisine and a list of essential local ingredients, followed by several dozen recipes ranging from soups to desserts:
The Cuisine of India – mulligatawny soup, okra masala, semolina cashew halva, cardamom cookies…

The Cuisine of Thailand – galagal lemongrass soup, green papaya salad, Thai basil eggplant, black rice pudding…

The Cuisine of China – pumpkin pine nut soup, dim sum, hoisin eggplant cutlets, lime mint lychee sorbet…

The Cuisine of Japan – edamame sea vegetable soup, daikon carrot salad, sesame tofu, mochi treats…
Asian Fusion, the catch-all fifth chapter, is just as varied, with such fare as Tibetan dumplings, Nepalese dhal bhat, Uzbekistani chickpea salad, Persian rice, and Korean mung bean pancakes.
Most of the recipes take no more than half an hour from start to finish, though there are a few that require some additional time for baking, chilling, etc.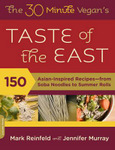 Three appendices cover preparation basics (toasting nuts and seeds; working with tofu, tempeh, and seitan), supplemental information (why vegan, organic, non-GMO), and additional resources (further reading about veganism, Asian cuisine, and environmentalism).
Buy The 30-Minute Vegan's Taste of the East:
Amazon.com | Amazon.co.uk
By the same authors: The 30-Minute Vegan