Sesame seed-coated marinated tofu is a tasty recipe that goes well with any Asian-themed meal.
Yield: 4 servings
Time: 30 minutes
Tools
knife
medium baking dish
spatula
2 shallow bowls
whisk or fork
Ingredients
5 T water, divided
2 T plus 1 t soy sauce, divided
1 T sesame oil
1 T rice vinegar
14 oz extra-firm tofu, pressed
3 T tahini
1 T lemon juice
½ c white and/or black sesame seeds
pinch cayenne
pinch salt
black pepper
Directions
Preheat oven to 350.
Combine 2 T water, 2 T soy sauce, oil, and vinegar in the baking dish.
Cut the tofu into 8 equal slices or triangles, then place in dish in a single layer. Flip to coat both sides with marinade.
Bake for 10 minutes.
Meanwhile, combine remaining 3 T water, t soy sauce, tahini, and lemon in one bowl, and seeds and spices in the other.
Remove dish from the oven and coat the top of each slice of tofu with a thin layer of tahini mixture, then press that into the sesame seeds.
Return tofu to the marinade, sesame-side up, and bake another 10 minutes.
Serve with a flavorful sauce such as wasabi or red pepper coulis.
Notes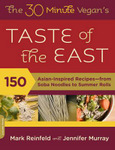 Adapted from the recipe for "Sesame tofu with wasabi cream sauce" in The 30-Minute Vegan's Taste of the East – read my review.
Buy it:
Help
Abbreviations | Conversions | Cooking tips