100 dairy-free recipes for everyone's favorite treats
Vegan cookbook review
If you or someone you love is a cookie monster, then Vegan Cookies Invade Your Cookie Jar is going to be your new best friend. With 100 recipes for every conceivable kind of cookie, this book will keep your cookie jar filled and your sweet tooth satisfied.
There are recipes for all the classics: chocolate chip cookies, blondies, snickerdoodles, oatmeal cookies, macaroons, gingersnaps, peanut butter cookies, biscotti, and lemon bars, just to name a few. There are also some unique creations, like Chocolate agave trailmixers, Frosted grapefruit icebox cookies, and Macademia ginger crunch drops. But the recipes that really jumped out at me were the vegan alternatives to several name-brand favorites:
Lazy Samoas (vegan version of coconut chocolate Girl Scout cookies)
Minonos (vegan version of Pepperidge Farm's® Milanos®)
Nutter betters (vegan version of Nutter Butters®)
Ooh la las (vegan version of Oreos®)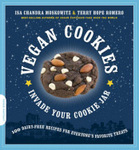 The first section of the book is devoted to "cookie science" to help you find the best ingredients, choose appropriate substitutes as needed, and troubleshoot problem cookies. With color photos throughout, Vegan Cookies Invade Your Cookie Jar is a must for everyone who loves cookies.
Buy Vegan Cookies Invade Your Cookie Jar:
More from Terry Hope Romero and Isa Chandra Moskovitz: