75 out-of-this-world recipes for pies, tarts, cobblers, and more
Vegan cookbook review
The third dessert cookbook from vegan baking duo Isa Chandra Moskovitz and Terry Hope Romero runs the gamut from fruit to chocolate to creamy baked creations. As with their other books, Vegan Pie in the Sky begins with a chapter of useful info. "How to create the universe or bake a pie from scratch" includes essential pie ingredients and equipment, detailed instructions on making pie crust, and a quick primer on different types of pie, from betties to galettes to tarts.
The recipes are divided into 6 chapters:
Pie crusts – Olive oil, Shortbread tart, Graham cracker…

Fruit pies – Cherry, Basil peach, and every Berry imaginable

Creamy pies – Lemon mousse, Coconut cream, Banoffee (banana toffee pudding)…

Harvest pies – Pumpkin cheesecake, Apple cobbler, Pear frangipane tart…

Chocolate pies – Brownie bottom peanut butter cheesecake, Boston creme, Chocolate hazelnut truffle…

A few toppings – Rad whip (vegan Cool Whip), Macadamia crème, Chocolate drizzle…
If you think pie is too tricky for the average home cook, or that as a vegan you can never again eat cheesecake or grasshopper pie, think again. Vegan Pie in the Sky will make sure that you never have to do without your favorite pie again.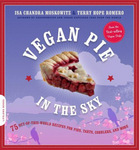 Buy Vegan Pie in the Sky:
More from Terry Hope Romero and Isa Chandra Moskovitz: