The Ultimate Vegan Cookbook
Vegan cookbook review
I love cookbooks, especially when they are more than just cookbooks. Veganomicon offers not only 250 vegan recipes, but also menus for different occasions, advice on essential cooking equipment, pantry staples, and basic cooking techniques.
The recipes in this book are divided into the usual categories – snacks, salads, soups, main courses, etc. But there's also a selection of brunch recipes as well as three sections featuring dessert: bread, muffins, and scones; cookies and bars; and desserts (crisps, cakes, pies, etc).
Recipes range from classics like hummus, roasted portobellos (great in sandwiches), and penne vodka to new vegan staples like chickpea cutlets (phenomenal), tofu florentine, cashew ricotta, and beyond to original creations such as chestnut-lentil pâté, pineapple-cashew-quinoa stir-fry, and the outstanding curried carrot dip. There's something for everyone, and the 16 full-color pages in the center of the book will have your mouth watering in no time.
The authors' writing style is very chatty, making it almost seem like they're right there in the kitchen with you. Another particularly nice feature is the use of icons at the beginning of each recipe:
45 means the recipe takes no more than 45 minutes start to finish
F for low(er) fat
G for gluten-free
S for soy-free
shopping cart means you probably have everything you need without running out for exotic ingredients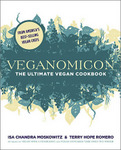 Whether you're a new vegan or someone looking to spice up your menus, Veganomicon offers great food and great fun for lovers of animal-free meals.
Buy Veganomicon:
More cookbooks from Isa Chandra Moskowitz and/or Terry Hope Romero: