A creamy ricotta-style cheese made from cashews and tofu, perfect for rollatini, lasagna, and manicotti.
Yield: 1½ to 2 cups
Time: 15 minutes
Tools
food processor
rubber spatula
Ingredients
½ c raw cashews*
¼ c lemon juice
2 T olive oil
2 cloves garlic, minced
1½ t dried basil or 1 T fresh
1½ t salt
½ to 1 pound firm tofu** pressed and crumbled
Directions
Place everything but the tofu in the food processor and blend until fairly smooth, scraping down the sides as needed.
Gradually add the tofu, processing until it reaches the perfect texture.
Notes
* If you have time, soak the cashews for 20 minutes or so beforehand, then drain and proceed with the recipe.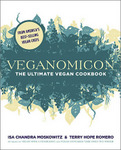 ** The original recipe calls for a pound of tofu, but I prefer the texture after adding just half a pound.
Variation: Spinach ricotta.
Adapted from the recipe for "Cashew Ricotta" in Veganomicon, by Isa Chandra Moskowitz and Terry Hope Romero – read my review.
Buy it:
Help
Abbreviations | Conversions | Cooking tips