Over 150 Delicious, Cheap, Animal-Free Recipes That Rock
Vegan cookbook review
Isa Moskowitz's Vegan with a Vengeance was the first vegan cookbook I ever bought, long before I'd even started thinking about giving up dairy and eggs. But there was just something about the title that drew me in, and the creative, delicious recipes that kept me there.
The short introduction includes a list of essential kitchen tools and pantry items, and then it's straight into the recipes, divided into nine chapters:
Brunch – veggie chorizo, coconut pancakes with pineapple sauce, ginger-pear waffles…

Muffins and Scones – lemon-poppyseed muffins, pumpkin muffins, hazelnut scones…

Soups – potato-asparagus soup, chili sin carne al mole, matzoh ball soup…

Little Meals, Sammiches, and Finger Foods – black-eyed pea and quinoa croquettes with mushroom sauce, tempeh reuben, spanakopita…

Sides – maple-mustard glazed potatoes, garlicky kale, roasted applesauce…

Pizzas and Pastas – potato and tempeh sausage pizza, gnocchi, fettucine alfreda…

Entrées – mushroom-tofu stew, jerk seitan, green Thai curry…

Cookies and Bars – maple walnut cookies, peanut butter cookies, macadamia blondies…

Desserts – raspberry blackout cake, lemon gem cupcakes, gingerbread apple pie…
This cookbook may be an oldie, but it's definitely a goodie. Still holds pride of place in my 200-strong cookbook collection after all these years.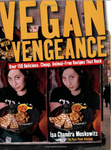 Buy Vegan with a Vengeance:
Other cookbooks from this author