75 dairy-free recipes for cupcakes that rule
Vegan cookbook review
Cupcakes are the ultimate treat. One cupcake is just the right amount of dessert, and it's portable to boot. Whether you're looking for easy vegan desserts to finish off a great meal, or elaborate treats that let you show off what you can do with frosting, Vegan Cupcakes Take Over the World, by Isa Chandra Moskowitz and Terry Hope Romero, has recipes and that will inspire and delight all of your senses.
After the introductory material, which includes cupcake troubleshooting tips and decorating advice, the recipes are divided into three chapters:
Basic Cupcakes: basic vanilla, basic chocolate, and some variations
Classic Cupcakes: carrot cake, gingerbread, peanut butter, brownie, cream pie…
Fancy Cupcakes: cashew cardamom, toasted coconut, tiramisù, Mexican hot chocolate, apple cider, mocha hazelnut…
There's also a chapter called Frostin's and Fillin's, which includes 5 kinds of buttercream, various mousses, some fudgy frostings, and ganache.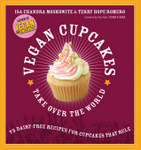 Ready to join the cupcake revolution? Vegan Cupcakes Take Over the World will help you, one little cake at a time.
Buy Vegan Cupcakes Take Over the World:
More from Terry Hope Romero and Isa Chandra Moskovitz: