350 essential recipes for inspired everyday eating
Vegetarian cookbook review
Not only is Italian cuisine my favorite, but I've always felt that it is one of the best for vegetarians. Pizza and pasta provide foundations for all kinds of meatless toppings and sauces, and the sky is pretty much the limit. But even I was surprised by the variety of recipes in The Complete Italian Vegetarian Cookbook.
I've been a huge fan of Jack Bishop ever since the first time I made his Tomato Cheese Tart (from A Year in a Vegetarian Kitchen), so I was very excited about The Complete Italian Vegetarian Cookbook. It didn't disappoint. I read it like a novel, my mouth watering more every minute as I devoured the ingredients and instructions for hundreds of recipes, even managing to make a few along the way. I've yet to find one that isn't delicious.
After a brief introduction comes a list of 18 mostly seasonal menus, including Harvest Party, Casual Weekend Lunch, and Dinner by the Fire. The 350 recipes are divided into 16 chapters:
Antipasto – marinated olives, herbed cheese spread, rosemary nuts, potato fritters with parmesan…

Soups – roasted yellow pepper soup, potato and zucchini soup, butternut squash with parmesan and sage…

Pasta – penne with oven-dried tomatoes and olives; fettucine with mascarpone, walnuts, and basil; baked ziti…

Rice – red wine risotto with rosemary and garlic, eggplant risotto, risotto cakes stuffed with mozzarella…

Polenta – polenta with oil and herbs, polenta with garlicky greens, breakfast polenta with raisins and almonds…

Gnocchi and Fritters – potato, potato-spinach, and ricotta-herb gnocchi; spicy eggplant fitters, spinach and mushroom cakes…

Eggs – parsley and shallot frittata, cauliflower soufflé, potato and spinach pudding, crespelle…

Legumes – cannellini beans with herbs, mashed borlotti beans, chickpea salad with sun-dried tomato vinaigrette…

Vegetable Main Courses – potato-tomato gratin; stuffed vegetables; spring vegetable stew…

Vegetable Side Dishes – braised celery, pan-roasted leeks, grilled radicchio, wilted spinach with garlic…

Salads – arugula-tomato-olive; fava bean and asparagus salad with basil toasts; couscous salad with tomatoes, cucumber, and mint…

Savory Tarts and Tortas – porcini mushroom tart, ricotta and basil tart, roasted zucchini torta with tomatoes and mozzarella…

Pizza, Calzone, and Focaccia – potato, arugula, and fontina pizza; calzone with mozzarella and olives; focaccia with onions…

Panini and Bruschetta – tomato panini with basil mayo, smoked mozzarella and arugula panini, bruschetta with garlicky zucchini…

Desserts – baked peaches, pine nut macaroons, prosecco sorbet…

Sauces and Other Basics – oven-dried tomatoes, low-fat béchamel, salsa verde…
One particularly nice feature is the inclusion of complementary dishes for each recipe. And there are also very useful tips on techniques like roasting peppers, baking pizza, cooking pasta, and making gnocchi.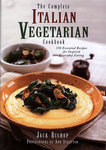 If you love Italian food, don't miss The Complete Italian Vegetarian Cookbook, by Jack Bishop. It will keep your tastebuds happy for years to come.
Buy it:
P.S. If you want to learn the Italian language to go along with your food, be sure to visit Lawless Italian!