Vegetarian cookbook review
The Middle East is a vast region that includes numerous countries, cultures, and religions, but many of the primary ingredients used are shared due to similar climates and even some ancestry. Vegetables and spices play a huge role in Middle Eastern cuisines, and it's very easy to make a vegetarian feast out of traditional regional dishes.
In Vegetarian Dishes from Across the Middle East, Arto der Haroutunian does an admirable job of bringing together a collection of recipes from these far-ranging countries, and some themes immediately jump out: eggplant, chickpeas, tahini, tomatoes, spinach, zucchini, and pretty much every combination of these you can think of.
Rather than being organized by country, recipes are organized by type/course, with wildly different dishes in each chapter:
Soups – Turkish almond soup, Armenian borsht, Iranian red bean and spinach soup…

Appetizers – hummus, baba ganouj, spicy bean balls…

Salads – orange salad, avocado with walnuts, fattoush…

Egg and cheese dishes – omelettes, pancakes, onion cake…

Pilafs – rice and potato, rice and dough, rice with almonds and dates…

Stuffed vegetables – artichokes, zucchini, peppers…

Olive oil-based dishes – beans, leeks, turnips in olive oil…

Pastas and cereals – pasta with lentils, sumac-flavored kufta, lenten stuffed wheat balls…

Vegetables – lentils with zucchini, spinach in pomegranate juice, celery bundles…

Savory pies and pastries – lent pizza, water pastry, filo böreks…

Breads – lavash, onion bread, thyme bread…

Pickles – pickled artichokes, cauliflower, cherrires…

Sauces and dressings – cinnamon-yogurt sauce, parsley, Armenian red pepper paste…

Desserts – baklava, custard-filled pastries, fruit doughnuts…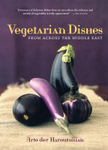 The recipes are pretty simple for the most part with short ingredient lists, but they are truly delicious. With traditional stories and jokes sprinkled throughout, this cookbook is fun to look through, but it's particularly great when I want to make something with, say, eggplant or chickpeas, as there are numerous and varied recipes with all of the key Middle Eastern ingredients.
Buy Vegetarian Dishes from Across the Middle East:
Author's website: Arto der Haroutunian