Rice pilaf enhanced with golden potatoes, for when you just can't decide between your two favorite starches.
Yield: 4 servings
Time: 3 hours (but only 30 minutes hands on)
Tools
large bowl
colander
heavy saucepan with tight-fitting lid
small bowl
spoon
clean kitchen towel
Ingredients
1½ c long-grain rice
about 2 Q water
2 T salt, divided
½ t saffron
1 t sugar
½ c olive oil, divided
2 large potatoes, sliced about ¼-inch thick
Directions
Rinse and drain the rice and place in large bowl. Cover with water and stir in 1 T salt. Let soak for 2 hours, then drain.
Boil 6¼ c water, add the rice and remaining salt, and stir well. Boil for 5 minutes, uncovered, then drain again. Set aside.
Combine saffron and sugar in the small bowl, then stir in 1 t warm water and all but 2 T of oil.
Transfer this mixture into the saucepan and add the potatoes, stirring and flipping until well coated.
Arrange the potatoes on the bottom of the pan, top with rice, and drizzle with remaining oil. Cover and cook over medium heat for 5 minutes.
Remove cover, stretch the towel over the top of the pot, and replace the cover. Fold up ends of the towel up over the cover to keep them away from the heat.
Reduce heat to very low and steam for 35-40 minutes, until the rice and potatoes are tender.
Serve hot.
Notes
Chelo sabzamini, or rice and potato pilaf, is an Iranian recipe traditionally served with butter, raw egg yolks, and sumac.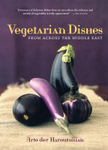 Adapted from the recipe in Vegetarian Dishes from Across the Middle East – read my review.
Buy it:
Help
Abbreviations | Conversions | Cooking tips