Enjoy these flavorful slices of gooey eggplant next to some quinoa or rice.
Yield: 2-4 servings
Time: 30 minutes
Tools
knife
rimmed cookie sheet
small bowl
whisk
spatula
Ingredients
1 pound eggplant
¼ c olive oil
¼ c vegetable broth
2-3 T soy sauce
1 small clove garlic, minced or 2 t dried garlic
1 t sugar
Directions
Slice the eggplant into ¼-inch rounds and arrange in a single layer on the cookie sheet.
Whisk together remaining ingredients and pour over eggplant. Flip the slices so that both sides are coated.
Turn oven to 400F and wait for it to preheat (allowing the eggplant to marinate in the meantime).
Bake 10-15 minutes, until very brown. Flip and bake another 5-10 minutes.
Serve immediately.
Notes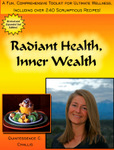 The original recipe is called "Easy and Addictive Eggplant 'Chips'" but they are far too soft to be eaten with fingers, which is what the word chips – even in quotation marks – implies to me.
Adapted from Quintessence C. Challis's Radiant Health, Inner Wealth (read my review).
Buy it: Amazon.com
Help
Abbreviations | Conversions | Cooking tips