by Quintessence C. Challis
Vegan cookbook review
This cookbook's subtitle, A Fun, Comprehensive Toolkit for Ultimate Wellness, Including Over 240 Scrumptious Recipes, is so descriptive that writing a review might seem superfluous, but in fact there is a lot to say about it.
Radiant Health, Inner Wealth is half cookbook, half guide. The first part of the book covers basic nutrition, including frequently asked questions, why you should eat organic, and allergies. It also explains the impact of what and how you eat on your health, both physical and mental. The "Two-Week Ultimate Radiant Health Plan" offers a program of diet and daily activity to help you rejuvenate mind and body, and the "Two-Week Ultimate, Ultimate Radiant Health Plan" can help you safely lose a few pounds in a short amount of time. Other sections include kitchen essentials (food and tools), menu planning, and miscellaneous tips about various foods.
The diverse recipes are inspired by cuisines from around the world and are divided into fairly typical chapters:
Breakfast – smoothies, fruit shakes, pancakes and waffles…

Starters – lowfat eggrolls, rosemary mushroom strudel, pakoras…

Side dishes – eggplant "chips," coconut-lime rice, kid's kale…

Salads – spinach strawberry, fatoush, Japanese…

Sauces and dressings – miso dressings, shiitake gravy, pomegranate sauce…

Breads – banana muffins, multigrain, spiced lime tortilla chips…

Soups – old-fashioned "chicken" noodle, red lentil and spinach, creamy potato-dill…

Desserts – chocolate decadence cake, apple puffs, orange-spiced baklava…
Less expected are the two separate sections of main courses (Everyday and Extravagent) and a selection of raw recipes. All of the recipes are preceded by comments and anecdotes from the author, and annotated with various codes:
GF gluten-free
SF soy-free
30 minutes or under
green healthy, low-fat recipes that you can eat all day, every day
blue a bit richer than green recipes, but still very healthy
purple rich recipes with more fat and sugar, to be eaten in moderation
Radiant Health, Inner Wealth also offers numerous meal plans (impressive, light, and kid-friendly), a glossary of unusual terms, and extensive indexes to help you find the exact recipe you need based on name, ingredients, course, or color code. More than 60 color photos make this one of the most beautiful, most useful vegan cookbooks around.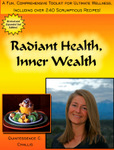 If you're a vegan in need of some guidance, or just someone trying to improve your diet and health by incorporating more whole foods into your diet, Radiant Health, Inner Wealth offers everything you need to eat and feel better, now and in the future.
Buy Radiant Health, Inner Wealth: Amazon.com
Author's website: Radiant Health – Inner Wealth