Creamy, lemony red lentils enhanced with the slight chewiness of spinach.
Yield: 6 servings
Time: an hour
Tools
knife
large pot with lid
wooden spoon
zester
citrus juicer
2 small bowls
Ingredients
3 T olive, coconut, or grapeseed oil
1½ c chopped onion (one large onion)
2 large lemons
6 c water
1 c red lentils, well rinsed
2 t fresh thyme
½ c non-dairy milk
4 cloves garlic, minced
2 c baby spinach
2-3 t salt
pepper
Directions
Heat oil over medium-high heat, add onion, and sauté, stirring frequently, until soft and golden – about 10 minutes.
Meanwhile, wash and zest one of the lemons into one bowl, then juice both of them into the other.
Add lemon zest, water, and lentils to the onions. Stir well, cover, and bring to a boil. Reduce heat and simmer about 30 minutes, until lentils turn to mush.
Remove from heat and stir in remaining ingredients.
Cover and let sit until spinach wilts.
Garnish and serve hot.
Notes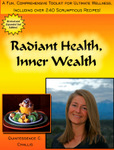 Adapted from Quintessence C. Challis's Radiant Health, Inner Wealth (read my review).
Buy it: Amazon.com
Help
Abbreviations | Conversions | Cooking tips