Beans and greens always go well together – this is a quick and particularly delicious combo.
Yield: 8-10 servings
Time: 30 minutes
Tools
knife
large frying pan
wooden spoon
tongs
Ingredients
2 bunches Swiss chard, cleaned and separated
2 T olive oil
½ c yellow onion, diced
1 jalapeño pepper (optional), stemmed, seeded, and diced
1 c tomatoes, peeled, seeded, and chopped
2 cloves garlic, minced
½ t fresh thyme
½ c red wine
1 c chickpeas, soaked and cooked or canned/drained/rinsed
salt
pepper
Directions
Chop the chard leaves and stems separately and set aside.
Heat the oil, add chard stems, onion, and jalapeño, and sauté 5 minutes, until softened.
Add tomatoes, garlic, and thyme. Lower heat and cook another 3-5 minutes, stirring occasionally.
Add wine and increase heat. When it starts to simmer, add chard leaves, and cook another 2-3 minutes, tossing constantly with the tongs until the chard is just wilted.
Stir in chickpeas and warm through, another 3-5 minutes.
Serve hot over rice or quinoa.
Notes
This is a very flexible recipe: you can use any kind of Swiss chard or replace it with spinach or kale. Instead of chickpeas you can use another kind of bean (white, navy, kidney…)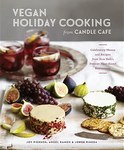 Adapted from the recipe for "Swiss Chard & Chickpeas" in Vegan Holiday Cooking from Candle Cafe.
Buy it:
Help
Abbreviations | Conversions | Cooking tips