Tofu combined with just three other ingredients makes a creamy, barely sweet vegan cottage cheese, perfect for blintzes or with fruit.
Yield: about 1 pound
Time: 10 minutes hands on, plus time to press and chill
Tools
medium bowl
potato masher, grater, or fork
Ingredients
Directions
Crumble the tofu and grate/mash until desired consistency.
Add remaining ingredients and mix well. It will seem a bit too wet; this liquid will be absorbed in the next step.
Chill for several hours and use as desired. (If it seems dry, add a bit more milk.)
Notes
* I like cashew milk for its hint of sweetness, but you can use any plain non-dairy milk, like soy or almond.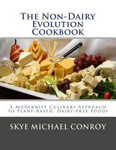 Recipe from The Non-Dairy Evolution Cookbook – read my review.
Buy it:
More mock cheese and dairy recipes
Help
Abbreviations | Conversions | Cooking tips