Soft, crisp tofu "meatballs" are delicious on top of pasta or just dunked into marinara sauce.
Yield: about 16 "meatballs"
Time: 45 minutes
Tools
cookie sheet or large, shallow baking dish
food processor
spoon
Ingredients
2 t oil
½ c firm tofu, pressed
¼ c fresh parsley
¼ onion, chopped or 1 T onion powder
2 T flaxseed, ground or ½ c wheat germ
2 T soy sauce
1 t fresh oregano or ¼ t dried
1 clove garlic, minced or ½ t garlic powder
¼ t black pepper
Directions
Preheat oven to 350.
Oil the cookie sheet and set aside.
Combine everything else in the food processor and process until fairly smooth.
Take about 2 T of the mixture and roll into a ball. Set on the oiled cookie sheet and repeat with remaining mixture.
Bake for 30 minutes, turning carefully about every 10 minutes.
Let cool for 5 minutes before serving.
Notes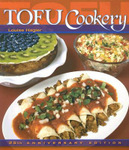 Adapted from the recipe for "Tofu spaghetti balls" in Tofu Cookery – read my review.
Buy it:
Help
Abbreviations | Conversions | Cooking tips