by Louise Hagler
Vegan cookbook review
Tofu Cookery was originally published in the 1970s, when tofu was far from being a household word. In this 25th anniversary re-edition, the author has revamped all the recipes to make them healthier (notably by reducing salt and replacing unhealthy fats), and has also added dozens of new recipes.
After a short introduction to tofu, including how to measure it and the different types, Tofu Cookery offers recipes for every course of a meal, divided into seven chapters:
Appetizers, Dips, and Spreads – veggie sushi, green onion dip, caper spread…

Soups – zucchini bisque, curried tofu-apple soup, Mexican corn soup…

Salads – almond salad, Asian slaw, cucumber boats, Russian dressing…

Main Dishes – tofu spaghetti balls, Korean barbecued tofu, tamale pie, stir-fried Chinese cabbage and tofu…

Side Dishes – hush puppies, scalloped cabbage, walnut-stuffed zucchini…

Breads – potato bread, rum rolls, hush puppies, English muffins…

Sweets – black bottom pie, orange-vanilla baked custard, oatmeal cookies…
Many international cuisines are represented, and I can't say I've ever seen a tofu cookbook with a section on bread and grains, which I think makes Tofu Cookery especially interesting.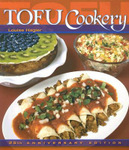 If you think tofu is tasteless and boring, think again – Tofu Cookery will help you make delicious, healthy, vegan meals that you and your family will love.
Buy Tofu Cookery:
Author's website: Vegan Global Fusion