Mexican corn salad, called esquites, is a colorful side dish that's quick and easy to make.
Yield: 4-6 servings
Time: 30 minutes
Tools
large frying pan with lid
wooden spon
Ingredients
2 T olive oil
1 medium onion, diced
1 red pepper, seeded and diced
1 jalapeño, seeded and minced (optional)
1½ pounds zucchini (about 4 medium), diced
1½ c corn, preferably fresh from the cob
¾ c vegetable stock
salt
2 T cashew cream
2 T cilantro or parsley, minced
Directions
Heat the oil over medium heat. Add onion, red pepper, and jalapeño, and sauté for about 6 minutes, until softened.
Add zucchini, increase heat to medium-high, and sauté about 7 minutes, until golden.
Stir in corn, stock, and salt, and bring to a boil. Cover, lower heat, and simmer for 5 minutes.
Add cream and herbs and simmer another 2 minutes, until thickened.
Serve hot.
Notes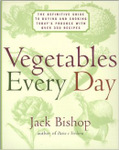 Adapted from the recipe for "Zucchini, corn, and red pepper sauté" in Vegetables Every Day, by Jack Bishop – read my review.
Buy it:
Help
Abbreviations | Conversions | Cooking tips