Red chile sauce is a spicy Mexican sauce most commonly served with enchiladas and chiles rellenos.
Yield: about 1½ cups
Time: 15 minutes
Tools
medium saucepan
wooden spoon
Ingredients
1 T corn or vegetable oil
1 small onion, minced
4 cloves garlic, minced
1 large chipotle chile or ancho chile, minced
1 T adobo sauce
2 T chili powder
2 t cumin
1 t coriander, ground
½ t dried oregano
1 c tomato sauce
¾ c water
1 T lime juice
salt
Directions
Heat oil over medium heat, add onion, and sauté until soft, about 5 minutes. Add garlic, chile, adobo sauce, and spices and cook another minute.
Add tomato sauce and water, bring to a boil, reduce heat, and simmer about 5 minutes. Add lime juice and a bit of salt, taste, and adjust seasonings.
Optional: for a perfectly smooth sauce, let it cool slightly then blend with an immersion blender.
Use now or let cool, place in airtight container, and refrigerate for up to 2 days.
Notes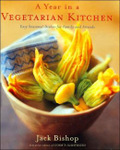 Adapted from Jack Bishop's A Year in a Vegetarian Kitchen: Easy seasonal dishes for family and friends.
Buy it:
Help
Abbreviations | Conversions | Cooking tips