Farm-fresh African, Caribbean & southern flavors remixed
Vegan cookbook review
Chef Bryant Terry is back with another vegan cookbook, this time a fusion of southern, African, and Caribbean cuisines. One of the things I really like about Mr. Terry's books is that so many of the flavors and textures are new to me, so just paging through them is like reading the menus of a dozen new restaurants.
Afro-Vegan includes more than 100 recipes divided into 10 chapters:
Spices. Sauces. Heat. – blackened seasoning, chermoula, smoky pili pili sauce…

Okra. Black-eyed peas. Watermelon. – crunchy bean and okra fritters, Texas caviar, strawberry-watermelon salad with basil-cayenne syrup…

Soups. Stews. Tagines. – stewed tomatoes and black-eyed peas with cornbread croutons, coconut-cashew soup with summer veggies, sweet potato and lima bean tagine…

Greens. Squashes. Roots. – fresh corn salad, collards and cabbage with garlic, slow-braised mustard greens…

Grits. Grains. Couscous. – grits and collard greens, dirty millet, vegetable couscous…

Street food. Snacks. Small bites. – lemongrass boiled peanuts, skillet cornbread, lil' tofu po'boys…

Preserves. Creams. Spreads. – pickled watermelon rinds, fig preserves with thyme, maple-plantain spread…

Biscuits. Smoothies. Porridge. – teff biscuits, purp 2.0 (blueberry-banana-cashew smoothie), millet-sweet potato porridge…

Cakes. Treats. Fruit. – cocoa-spice cake, ambrosia ice pops, tropical fruit salad with mango-lime dresssing…

Cold drinks. Tonics. Cocktails. – roselle-rooibos drink, ginger-lemongrass tonic, tamarind sweet tea…
Afro-Vegan is rounded out with a dozen seasonal menu suggestions, including a spring salad buffet, an intimate summer dinner for two, autumn family fun food, and Saint Bob Marley's birthday dinner for winter.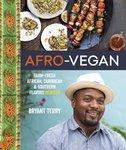 Buy Afro-Vegan:
Also by this author: Vegan Soul Kitchen