Fresh, healthy, and creative African-American cuisine
Vegan cookbook review
When you think of soul food, what comes to mind – chicken, grits, okra? As a white vegetarian from the Midwest, I can't say I'd ever given much thought to African-American cooking, simply because it wasn't part of my culture growing up. But when I saw Bryant Terry's Vegan Soul Kitchen, I was intrigued.
Unsurprisingly, many of the recipes are brand-new to me – gumbo, collard greens, Planter's punch (Mr. Terry's version is nonalcoholic), and some are adapted from meat dishes, like cornmeal-crusted seitan, Hoppin' John, and blackened tofu. But the most interesting part for me is the creative spin given to everything from watermelon (how about with some basil or balsamic?) to tempeh (fried in coconut oil or stuffed into bell peppers). These are healthy, inspired, unusual recipes pushing the limits of African-American cuisine – as the author states in his introduction, "Think: Alice Waters meets Melvin Van Peebles."
As you can see from the chapter titles, Vegan Soul Kitchen has recipes for every part of the meal:
It's All Good: Zero-waste watermelon
Hydro Game: Drinks
Sound Bites: Appetizers, starters, snacks
Mix Plates: Salads, slaws, dressings
Liquid Lessons: Soups, stews, pot likker
So Fresh and So Green Green: Veritable vegetables
Bring the Grain: Rice, oats, ancient grains, grits
Protein Routine: Beans, tofu, tempeh, seitan
Daily Bread: Biscuits, cakes, cornbread
Margie's Cupboard: Condiments, sauces, preserves, pickles
Sweet Thangs: Desserts, candies, ambrosial treats
And then there's also Top Six Good Eats: You gotta rewind me, featuring some of the author's personal favorites.
Another great aspect of this cookbook is that it's about more than just food. Each recipe comes with a soundtrack – recommended music to listen to while cooking and/or eating, as well as the occasional movie or book. There are also kitchen tips and black and white photos throughout, as well as a dozen gorgeous color shots.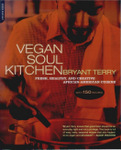 If you're bored with cooking the same old kind of food, take a look at Vegan Soul Kitchen for some truly inspired and delicious recipes.
Buy Vegan Soul Kitchen:
Also by this author: Afro-Vegan