If you like goat cheese, you'll love this simple sauce.
Yield: 1½ cups
Time: 10-20 minutes
Tools
skillet or small saucepan
wooden spoon
Ingredients
Directions
Mash the cheese into the liquid and stir in the garlic.
Heat over medium heat, stirring regularly, until cheese melts and the liquid simmers.
Cook the sauce for 5-15 minutes – the longer you cook, the thicker it will be.
Season with minced herbs and pepper and serve immediately.
Notes
For a richer sauce, you can add a spoonful or two of cashew cream.
This sauce goes well with vegetables – particularly eggplant – and pasta.
For a colorful variation, try topping the sauce with some julienned sun-dried tomatoes or roasted red peppers.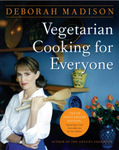 Adapted from Vegetarian Cooking for Everyone (read my review).
Buy it:
Help
Abbreviations | Conversions | Cooking tips