by Deborah Madison
Vegetarian cookbook review
Originally published in 1997 and updated for a 10th anniversary edition, Vegetarian Cooking for Everyone has long been one of my favorite cookbooks, as you can see by how many of its recipes are featured on The Veggie Table. Deborah Madison cooked at Chez Panisse before founding Greens in 1979, a landmark restaurant in the San Francisco Bay Area. Though she is not a vegetarian, Deborah Madison knows good food, knows how to cook it, and, most importantly, knows how to teach others to do the same.
The introduction to the new edition talks about how cooking in general and vegetarian cuisine in particular have changed since Vegetarian Cooking for Everyone was first released, then offers tips on becoming a cook, including developing your kitchen savvy, composing vegetarian meals, inventing a vegetarian menu, cooking for holidays and special occasions, choosing kitchen equipment, basic cooking methods, and cutting techniques.
More than 1,400 recipes are divided into 17 chapters.
Sauces and condiments – grilled tomato sauce, goat cheese sauce, herb salts, preserved lemons…

Appetizers and first courses – black bean dip, baked ricotta cheese, canapés, spring rolls…

Sandwiches – cucumber sandwiches, bleu cheese-pear-nut sandwich, pita sandwiches, grilled vegetable heroes…

Salads – herb salad, cucumber salad, spinach salads, beet salads, more than a dozen vinaigrettes…

Vegetable stews and stir-fries – cashew curry, brown rice with broccoli rabe, sweet and sour stir-fry…

Gratins and casseroles – Spanish potatoes, potato leek gratin, souffléed bread crumb pudding…

Beans – dal, chickpeas and greens, mixed beans in broth, red bean gumbo…

Vegetables – eggplant rollatini, Provençal stuffed tomatoes, sweet and sour red cabbage, fried green tomatoes…

Pasta, noodles, and dumplings – Burmese noodles, mushroom lasagne, noodle kugel, saffron dumplings…

Savory tarts, pies, turnovers, and pizzas – fresh herb tart, onion galette with mustard cream, white pizza…

Grains – posole, toasted millet, quinoa timbales, rice and squash gratin…

Eggs and cheese – frittatas, soufflés, savory cheese custards, winter squash flan…

Soy – caramelized golden tofu, herb-crusted tofu, smoky tempeh strips, honey mustard tempeh…

Breakfast – oatmeal pancakes, winter breakfast compote, maple nut cereal, sweet rice breakfast soup…

Breads – cheese muffins, corn-rye muffins, buttermilk skillet corn bread, potato biscuits…

Desserts – sautéed apple rings, broiled figs, apricot galette, olive oil cake, grapefruit sorbet…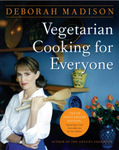 This cookbook truly has something for everyone, from newcomers to cooking and/or meat-free meals, to experienced cooks and long-time vegetarians.
Buy Vegetarian Cooking for Everyone: