Bagels seem daunting, but they're actually really fun to make.
Yield: 12-16 bagels
Time: 1½ hours
Tools
small bowl
rubber spatula
stand mixer, food processor, or large bowl
clean kitchen towel
large, heavy pot
tongs
metal rack
baking sheet
Ingredients
1½ c warm water (100-110°F)
scant ¼ c sugar
1 T salt
4½ c flour, divided
4½ t dry yeast (2 packages) or 3½ t instant yeast
several Q water
1 T malt syrup or sugar
Several T toppings (poppyseeds, sesame seeds, dehydrated onion, etc)
Directions
Combine water, sugar, and salt in the bowl and stir to dissolve.
Transfer to mixer along with 1½ c flour and the yeast. Mix for several minutes, scraping down sides as needed, until smooth. Gradually add the rest of the flour and mix until it forms a ball.
Lightly flour the counter and turn out the dough. Knead for 5 minutes, until smooth. If it's very sticky, add a bit more flour.
Cover with towel and let rest for 10 minutes.
Cut or tear the dough into 12-16 pieces.*
Roll a piece of dough into a ball, flatten into a disk, and press your thumb and pointer finger together to make a hole. Stretch and smooth the dough into a ring. Repeat with remaining dough.
Cover and let rest 10-15 minutes.
Fill pot with water, add sweetener, and bring to a boil.
Preheat oven to 375.
Lower water to simmer, add 3 or 4 bagels without overcrowding, and simmer for 3 minutes. Flip each bagel and simmer another 3 minutes, then transfer to rack to drain.
Add more bagels to the water, then sprinkle your chosen toppings on the already boiled bagels, pressing them in slightly.
Once all the bagels are boiled and topped, transfer to the baking sheet and bake for 30 minutes.
Notes
Make some flavored (vegan) cream cheese to spread on top, or use in place of bread for sandwiches.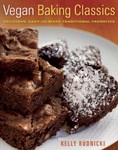 * I like to make smaller bagels so that we can each have our own, instead of cutting them in half and then arguing about who gets the top. 🙂
Adapted from the recipe for "bakery-style bagels" in Vegan Baking Classics, by Kelly Rudnicki.
Buy it:
Help
Abbreviations | Conversions | Cooking tips