Tomatoes stewed with black-eyed peas and a blend of spices.
Yield: 4-6 servings
Time: 1½ hours (mostly hands off)
Tools
colander
medium saucepan with lid
wooden spoon
large saucepan with lid
Ingredients
1½ c dried black-eyed peas, soaked overnight
3-inch piece of kombu
several c water
1½ t coarse salt
1 T olive oil
½ c yellow onion, diced
¼ c celery, diced
1 clove garlic, minced
½ t Creole spice blend
28-oz can plum tomatoes with juice
2 c vegetable stock
1 T basil, chopped
Directions
Drain the peas, place in medium saucepan with kombu, and add water to cover by 2 inches. Bring to a boil, skim off foam, reduce heat, partially cover, and simmer for 40-50 minutes, until just tender. Add 1 t salt and simmer for 5 minutes, then drain and set aside.
Meanwhile, heat oil over medium heat, add onion and celery, and sauté 5-7 minutes until soft. Add remaining ½ t salt, garlic, and spice blend and sauté 2-3 more minutes, until fragrant.
Cut the tomatoes in half lengthwise, then add to pot along with their juice, veggie stock, and the black-eyed peas. Bring to a simmer, reduce heat to medium-low, cover, and simmer for about 30 minutes, stirring occasionally, until thickened.
Add the basil and cook another minute, then serve hot.
Notes
Highly recommended: top with cornbread croutons, which add a nice crunch even as they soak up the tomato-y broth and pull everything together deliciously.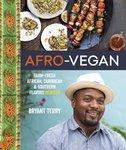 Adapted from the recipe for "Stewed tomatoes and black-eyed peas with cornbread croutons" in Afro-Vegan (read my review).
Buy it:
Help
Abbreviations | Conversions | Cooking tips